Hello and welcome to ICT Threads-Wichita Proud  
My name is David Leierer. I am a proud and thankful father of my daughter (our art designer), Madison Leierer. Without her drawings and assistance, this site would not exist. However, her drawings of Wichita flags barely touch the surface of her skill as an artist.  She is a National Art Scholar who has won several awards. For many reasons far beyond that I am very grateful to be her dad!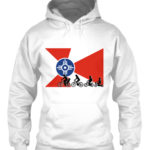 We hope you love our original Wichita flag themed clothing and accessories that Madison has designed in our online storefront. As well, we hope you'll love the Shocker fan clothing and man cave pages also on this site. I also want to give a shout out to Alexa The Great, who works for us part time as a freelance writer.
We really appreciate our customers! It is our pleasure to provide you with great products and valuable information about our awesome city. The air capital has many things to offer its residents and visitors.
Wichita has great food, history, activities, and people! To read about how we started this venture click this link from our article in Splurge magazine. 
A Great Place To Grow Up.
I've always loved Wichita. I was born and raised here. I have a lot of great memories with "bowling alley friends" playing in one of many arcades as the adults bowled, playing at parks while the adults were on the softball diamonds, and visiting Barnacle Bill's FantaSea Water Park at least once every summer. Also, I can't forget to mention the good memories of visiting Joy-land, the river city's very own little amusement park.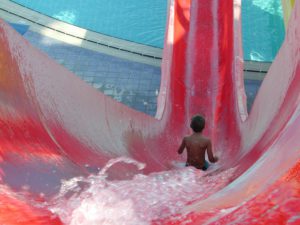 However, most of my wonderful Wichita childhood memories are from my old neighborhood in Orchard Park, where I spent the first eleven or twelve years of my life. I have fervent memories of growing up around that area before, during, and after my grade school years – back in the nineteen-eighties and early nineties.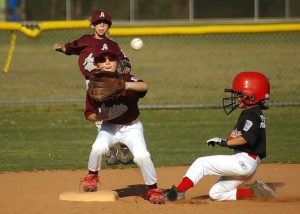 I enjoyed playing most sports. Although, I was more thrilled about playing hide-and-seek with school and neighborhood friends (only the chase to base version), skateboarding the streets, building dangerous ramps to jump with our bikes and boards (excluding the well crafted ones my dad made us).
Playing at Orchard Park and Recreation Center and swimming at Orchard Park Swimming Pool were where I spent a lot of  time, and of course, riding bikes until the street lights came on.
Those seemed like such simple times without much for a kid to fear. I myself grew up to be a proud helicopter parent until my daughter was much older 🙂
I loved exploring creation in those early childhood years. We, the kids of the neighborhood, had approximately 5-10 acres of woodland right across the street from my house. It was probably no more than five acres of trees, but it seemed like a square mile to us kids.
We would build forts and the most pitiful tree houses. Those times in "our forest" kept us occupied for hours on end. We caught frogs, toads, turtles, and baby birds. We were really young and didn't yet know we weren't supposed to borrow baby birds from their nests or take them home to show mom and dad, okay, Sorry! (FYI: The bird-nappings were when I was 4 or 5 years old)
Most of these memories were similarly experienced by other kids all over America, but those are some important ones of mine here in Wichita.
Passing It On.
Many years later I would again experience some of those magical feelings vicariously through my daughter during her own discoveries of nature's splendor. In case, you were wondering, I taught her not to touch baby birds in the nest. However, I did lift her up to peek at some quite a few times over the years.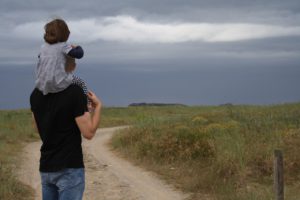 Of all the parenting goals I have had as Madi's dad over the last eighteen years, one was to ensure she had many occasions to experience most of those childhood wonders. I have always taught her to slow down, unplug, and appreciate the beauty that surrounds her wherever she goes.
I truly believe Madi admires our beautiful Kansas sunsets and sunrises almost as much as I do.
We would love to hear about your Wichita memories from your childhood, or as parents in the comments below if you would care to share them.
Our Purpose And Our Goals.
We want to help you find great Wichita themed gear.
Our purpose here is to sell top quality-unique products that are perfect for decorating a den, a kids room, a poolside patio, or clubhouse. Also, our products make great gifts and souvenirs.
We have many Wichita shirts, hoodies, leggings, socks, towels, flags, pillows, tote bags, phone cases, coffee mugs, stickers, and more.
Our other goal here is to spark or re-spark your love for Wichita and the community as a whole. We would also like to educate newer residents on some of Wichita's history as well, in future blogs.
If you ever need a hand or have any questions, feel free to leave them below or email me at david@ictthreads.com and I will be more than happy to assist you. Also, please share some Wichita memories below.
All the best,
David
Please check out our Wichita themed clothing store above.