No Time For News Threads.
I tried it for a short while, but I just don't have the time or energy required to report news consistently. It reminds me of social media. As I have told many of you in our discussions, I get on social media maybe 2-3 times per year.
For one, I despise social media. The second reason is I often got banned and shadow banned. And third, I loathe social media! It's not because I don't like seeing you.
Posting here feels like posting on Facebook, and as stated, I don't enjoy that. I hardly have much time for my other websites and I can't afford to pay Alexa (my freedom-loving freelancer) what she deserves in order for us to be on top of the news.
Overdue Madison Update.
I will try to get on F.B. sometime this year to post some recent pictures of Madison. I think it has been 4 or 5 years.
For those I don't speak to often, this last spring, my lovely daughter graduated Magna Cum Laude (if you don't know, that means between 3.85 G.P.A. and 3.949 G.P.A.) from K-State with her Bachelor's in Biochemistry and a Minor in Entomology.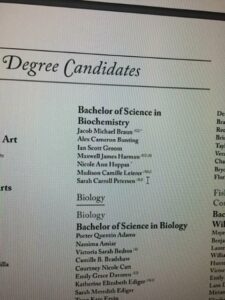 All that was accomplished with her strong Christian faith and her sanity intact! She would say her sanity is barely intact. 🙂
She is now in Graduate School at K-State to get her Doctorate/Ph.D. in Biochemistry.
I hope you and your families are all well, and I pray for you often.
Sincerely,
Arrest Fauci and Gates!
David